Timber Sales — Harvest and Administration Services
Forest management is the application of technical forestry principles and business methods to assist in attaining the goals of forest landowners. These goals can cover a wide range of interests — timber, wildlife, recreation enhancement — but their common denominator is a healthy and productive forest. Periodic harvesting of your timber is the most cost efficient means to achieve the goal of a healthy and productive forest. These goals are best realized with professional assistance.

Timber marketing is one of our specialties. The most common form of forest management is the harvest of standing timber. If you have desirable standing timber you are probably within the procurement radius of at least 60 reputable buyers. Standing timber is purchased by sawmills, independent loggers, and brokers. Sealed bid sales of marked trees — our normal marketing method – is the only way to assure you are receiving a fair price for your timber.

Such sales are most often bought by medium to large-sized sawmills. The largest sawmills employ armies of "foresters" whose sole purpose is to separate landowners from their best timber at 40 cents on the dollar. Smart landowners avoid these operators. Private unsolicited offers will usually be less than half of the fair market value. Competitive bidding is the only way to obtain fair market value for your timber.

When selling timber, it is important that the trees to be sold are selected with your interests in mind, and you should have a clear idea of what you are selling. The process begins with an assessment of your goals. If a timber harvest is appropriate, individual trees are selected, marked, identified, graded, and measured.

The inventory information is summarized in a sale advertisement which includes a map and the terms of the sale. This is distributed to at least 60 reputable, insured buyers. You are provided with a timber appraisal before the bidding, and you retain the right to refuse any and all bids.

We often attempt to time the sale to favorable market conditions. Factors such as species mix, timber quality, access and size of the sale can all influence what a buyer will pay. Once you decide to sell the timber we will prepare the contract, obtain the required permits, and collect the money. Once the buyer makes their final payment and begins the cutting we will supervise the operation on a weekly basis.

Such things as truck access, skid trail location, log loading areas and stream crossings are all worked out in advance. Upon completion of the work we will make sure any necessary grading and seeding are performed by the buyer before we release them of their obligations.

Taxes
Timber sale income is taxable as a capital gain, you pay tax on the difference between the current value and the value of the timber at the time you acquired the property. We can help guide you through this process, so that you don't overpay the taxes.

Unless you are an expert, never sell your timber without an independent assessment!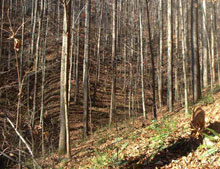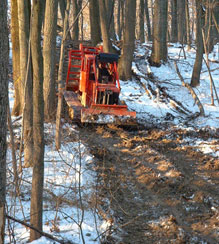 Low ground pressure equipment working in a thinning.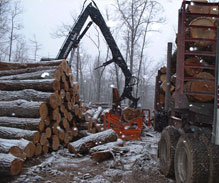 Loading logs on a deck.


Small sawmill producing high quality lumber.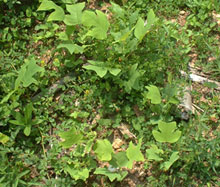 Abundant seedlings following a regenerative harvest.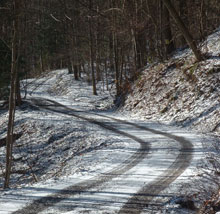 Well designed logging roads pay future dividends.